Introduction
Established in 1974, the College of Nuclear Science at National Tsing Hua University currently comprises the Department of Engineering and System Science (ESS), the Department of Biomedical Engineering and Environmental Sciences (BEES) and the Institute of Nuclear Engineering and Science (NES). Both Departments offer programs leading to B.S., M.S., and Ph.D. degrees. The Institute currently confers M.S. degree and is about to offer doctoral program in 2008.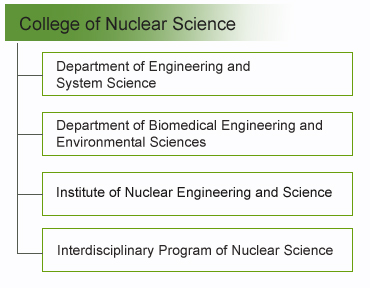 As the only research institution in Taiwan that combines teaching and research of nuclear science and technology, the College of Nuclear Science features its long history and uniqueness. The College integrates multidisciplinary science and engineering into education and research, focusing on the development of nuclear power plant engineering, next generation nuclear system, energy technology, nano and micro systems, medical physics engineering, plasma physics engineering, biomedical engineering, and environmental molecular science.
With such various developments, the College has made significant contributions not only to radiation application in medical treatment, industry and agriculture, but also to the nuclear power which provides 20% electricity for the country. Besides practically benefiting the society, the College also shows a brilliant performance in cultivating professional scientists and engineers. Many alumni from the College occupy leading positions in nuclear energy institutes and advanced technology companies. Some of them also have outstanding academic achievements.
In the future, the College will still place much emphasis on multidisciplinary education and research in nuclear science and engineering, sparing no efforts promoting international academic collaborations and cooperating with domestic industry and medicine. The ultimate goal is to become one of the leading colleges in the world.
Yue Mei,Chung
Secretary, College of Nuclear Science
Responsibilities
1. General administrative affairs
2. Dean's schedule arrangements
3. Faculty related affairs
4. Meeting arrangements
5. Budget management
6. Other assigned matters
Contact
1. R304, Green Energy Research and Education Building
2. TEL1:886-3-5715131 ext. 62033
3. TEL2:886-3-5719773
4. FAX:886-3-5716526
5. E-mail:nuclear@my.nthu.edu.tw
Po-Ju Lee
Executive Assistant, College of Nuclear Science
Responsibilities
1. General administrative affairs
2. International collaboration affairs
3. International Ph.D. programs
4. Student scholarship
5. Website management
6. Other assigned matters
Contact
1. R304, Green Energy Research and Education Building
2. TEL:886-3-5715131 ext. 34201
3. FAX:886-3-5716526
4. E-mail:pjlee@mx.nthu.edu.tw